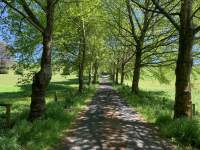 Testimonials
So incredibly grateful to have this time away to fill my cup, be reminded to be kind, loving and compassionate to myself and to be my own best friend. Thank you for creating a safe space where I could get in touch with myself, self reflect and reset. Have made some beautiful meaningful connections with the other ladies that I will cherish also thank you again.
Much love & blessings
TM
When you are given a chance to rest and have some quality time to yourself, it can sometimes be hard to know what that looks like and how to have it. And usually it can cost, it can be anxious trying to plan it, and you may not have the resources to make it happen. My being able to come on retreat took care of all of those worries for me. I cannot think of a better way I could have had this most precious time to myself and with incredible women. I am most grateful to 'Life A Plenty' facilitators and donors. I will go home feeling blessed, fed awesomely both physically and spiritually. Thank you so much. Words truly cannot express my gratitude, but my future changes within myself most certainly will speak it. Peace, Clarity and Confirmation.
Arohanui CK
What an amazing journey! From the moment we arrived to the moment we left has been incredible! You have helped me so much in forgiveness, mindfulness and how to cope. I was so broken when I came here, had no idea how to deal with everything I can now walk away with strength and forgiveness. Barbara and Anne you have been so helpful, so much knowledge on how to deal with past trauma and life in general. All of us have been treated so well here at the retreat, not even having to lift a finger. To the sisters that cooked our meals, thank you! It's so nice not having to worry about meals. This was an amazing break from reality and the stuff I have been through. Its incredible how much tears and laughter has been shared. I loved going for walks along the river and up the hill, making new friends. Thank you for the opportunity.
C
Thank you for this amazing opportunity. The skills that I have learned I feel I have "earthquake" proofed me. The connections I hope will be forever.
LT
Fullness of Peace
As I drove down the tree-lined drive through the mist to the monastery, there was a sense of calm, of leaving all your troubles and stresses behind in another world. It felt welcoming and safe. It was warm and silent and lots of time...
Time to relax,
Time to listen,
Time to reflect.
There was a sense of fellowship no matter the different ages or journeys we were on.
We laughed.
We cried.
We made friends.
In the supportive and peaceful space I could put my life in perspective and refocus.
As it is time to leave, the fog is lifting. I am ready to return to the real world with the strength to face my challenges and make changes and say No. My soul nourished at peace with the world.
by Anonymous
This has been one of the most rewarding experience's on my journey of healing. The tools I have gathered to help with my coping of everyday life are amazing. I came on the retreat as a young woman who didn't know how to be self-compassionate or mindful of my surroundings; a young woman who needed a lot of healing but left the retreat with more self-compassion towards self, which in turn has given me a more positive look on life. I still have a long road of healing, but I now look at that road with more hope than I did before, just knowing that hey, I am actually only human and that is ok and makes me know that the sunrise at the end of my journey will be bright and beautiful.
Thank you Life A Plenty for this wonderful 5 days.
ST (age 25)
This retreat has been an integral part in my journey of healing and discovering what I want and need for myself.
Over the stay we had so much free time to relax, build relationships with other women, or alone time if we wanted.
Our group sessions provided me with tools to help me map out a strong, healthy future.
Our hosts Barbara and Anne had the ability to guide group discussions in a gentle, non-judgemental way.
I am so excited!
BS
I will forever be thankful to the Life A Plenty Charitable Trust, Anne, Barbara and the Retreat Centre for the opportunity to attend the Women's Retreat.
It has been an amazing experience that I wish I'd had years ago, and I truly hope the Retreat will be available to the many women who need sometime to rest, think, learn, heal, laugh and not lift a finger(!) so that they can find the strength to make healthy changes to their (and their children's) lives.
Thank you so much. I will certainly tell others about my special time here.
Much love P
Thank you very much for giving me such an opportunity to come to this retreat! I really enjoy all my time here in this beautiful, peaceful and restful environment. We were served just like princesses with food ready on the table, and empty dishes being taken away. The workshops are very knowledge and practical that helps us to make a change in our life to have a new beginning! The free time in the morning has been very helpful for me to have a good rest, having a quiet time to read my Bible and books without being interrupted. I feel I've been recharged this weekend, and my body, soul and spirit have been shepherded. Thank you.