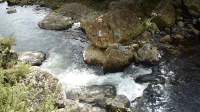 Charlotte Van Doorn
Holding a B.Hort.Science, Charlotte worked in various roles within the horticultural sector for 20 years, before retraining at BOP Polytech (now Toi Ohomai) to gain a Dip. Social Practice (Counselling) in 2007. In 2008 she completed two papers at Masters level, including a Groupwork paper.
Charlotte subsequently worked concurrently in several agencies. Groupwork/facilitation became her niche; facilitating adult groups focused on parenting, women's self-esteem, blended families and parenting through separation. Facilitating women's groups for six years with 'Living Without Violence', she has an in-depth understanding of Family Violence. Charlotte also worked for four years with both children and parent groups around loss and grief, as 'Seasons' Co-ordinator.
In 2011, the opportunity arose to step into a project management role to co-ordinate and launch a pilot parenting programme for vulnerable families – 'Tautoko Mai', which ran for three years. This role required community collaboration and the building of networks, planning and co-ordination skills, and the ability to be multi-skilled in order to provide support at all levels, including childcare and relief facilitation.
Simultaneously, Charlotte was approached to do contract co-ordination work for Community Education BOP. Event co-ordination for the annual Adult Learners' Week Awards at Tauranga City Council Chambers was the major focus, where she also was thrust into an emcee role for three years and gained skills in public speaking.
Since 2014, Charlotte has been in her role as Strengthening Families Co-ordinator. All her previous facilitation, networking and community development skills have been further enhanced through working with families requiring support to access co-ordinated appropriate supports.
For further information contact Charlotte. Alternatively you may phone / text Charlotte on 027 3444 278.