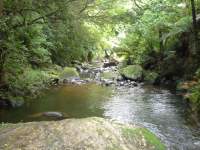 Recuperative Retreats for Women
"A sanctuary offering relaxation, restoration and replenishment - just for you!"
We are focused on keeping the women who attend our retreats safe, and all Facilitators are fully vaccinated. In line with these Health and Safety considerations, all attendees must complete a RAT test at the Tyburn Retreat Centre prior to entering.
Note: If an attendee develops COVID symptoms during the retreat, they would be expected to alert the facilitator(s), who would require the attendee to complete a RAT test. If the test results are positive, the attendee would be required to leave the Retreat and follow current MoH Guidelines.
Life A Plenty Charitable Trust 'Recuperative Retreats for Women' is a service provided specifically for women within the Tauranga and wider Bay of Plenty region, who have been recommended a period of rest and recuperation by a health professional.
To view map
The retreat provides the opportunity for women to take a break from their day-to-day activities in order to replenish their mind, body and spirit, and at the same time receive support to make positive changes in their lives. The retreats provide a safe and secure environment for participants to experience complete rest in a quiet, reflective atmosphere.
Each retreat is FREE to participants and all meals are provided. Participants have their own bedroom (including an ensuite), with all linen provided. All participants receive individual and collective support from two qualified facilitators/therapists throughout each retreat, which takes place over five days.
During the Retreat, participants are able to attend daily workshops in order to learn simple relaxation exercises, coping with anxiety, stress management techniques, establishing boundaries, understanding grief, self-compassion and problem-solving strategies to effectively manage life challenges.
The immeasurable value and benefit these retreats provide is the positive ripple effect on the women attending, their health and wellbeing, their tamariki/children, their relationships, their whanau/families and in turn, their entire community.
For all enquiries regarding the Women's Retreats, or general enquiries related to Life A Plenty Charitable Trust services, please contact Rochelle Lemberg (see details below), or click on the orange 'Admin' button below. We will reply to your enquiry within 48 hours.
In the event of a mental health emergency, please phone 111.
Contact Rochelle Lemberg on 021 416 553
Confirmed Retreat Dates for 2022
26 - 30 May
7 - 11 July
1 - 5 September
29 September - 3 October
1 - 5 December
Supported by