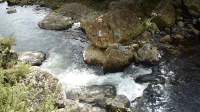 Dr. James Arkwright
James has twenty five years' experience working in the social services, health and education sectors; including Family and Patient Counsellor at Auckland Spinal Unit, Co-director of Disability Support Services at University of Auckland, Counsellor within Student Health Services at University of Auckland and Lecturer at Unitec Institute of Technology.
James currently works at Bethlehem Tertiary Institute and is the Head of School for the School of Social Practice. He also teaches in the counselling and professional practice programmes and undertakes research relative to 'inclusive education'.
James' qualifications include a Doctor of Education and a Master of Education in Counselling.
Counselling and therapy session charges: Due to a very full schedule, James is currently unavailable for counselling.
For further information contact James.