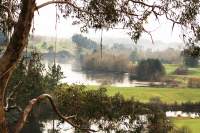 Our Vision
"Providing the highest quality service to people seeking freedom from emotional, psychological and spiritual distress"
Life A Plenty Charitable Trust comprises a Therapeutic Retreat Team which includes experienced therapists, professionals and educators, with extensive knowledge and expertise across a range of areas including depression, anxiety, stress, relationships, grief and trauma. Additional expertise includes business relationships, collaboration and communications.
In looking to extend traditional therapeutic approaches, this team of therapists/educators gathered to discuss an approach to therapy which is transformational, affordable and enables clients to achieve their goals quickly and successfully. The overall aim of the team was to develop a therapeutic context which provided a safe and secure environment for participants to develop hope and meaning and the skills to live positive and vibrant lives. Out of this vision, the idea of a service that provided short-term residential retreats (five days) and professional development seminars and workshops was born.
As friends and associates for more than a decade, the team shares a vision and a commitment to finding and implementing approaches that work. To this end, the practices which underpin our therapeutic approaches are based on evidence and research. Each member is committed to ongoing professional development to ensure their services remain up to date and relevant.
Our Values
Respecting people of all religious, non-religious and spiritual perspectives
Embracing hope and meaning
Supporting change and the development of hope
Providing high quality therapeutic interventions
Embracing and creating evidence-based practice
Creating a safe and secure therapeutic context
Targeting change through effective planning, goal-setting and appropriate support
Our Mission
"To walk with people finding meaning, hope and fulfilment in their lives"