SOLD OUT
Resilience Psychology
Tools to cope with disruption, challenge and loss
All proceeds go towards funding Life A Plenty Charitable Trust FREE Recuperative Women's Retreats
2023 tests our ability to adapt to change, recover from hardship and remain centered in the face of adversity. We are living in a time of multiple, often global crises, characterised by uncertainty, disruption and change. Resilience is the ability to withstand or recover from misfortunes and setbacks. The good news it: there are actionable tools that can be learnt to process and overcome hardship.
Life A Plenty Charitable Trust presents Dr. Lucy Hone, Director of the New Zealand Institute of Wellbeing and Resilience (NZIWR).
Welcome to our 2023 fundraising and professional development event. We are proud to present Dr. Lucy Hone (NZIWR) as our 2023 presenter, who will be sharing insights from her many years of experience as a global resilience expert as well as her own personal grief story as she lost her daughter in a tragic motor accident. Turning complex science into usable tools, you will leave this event with concrete tipps and tricks on how to increase your own resilience as well as on how to best support people around you.
"We need both willpower (motivation) and way power (pathways) for change." (Lucy Hone, Resilient Grieving)
Adjunct senior fellow at the University of Canterbury, an internationally sought-after professional speaker, best-selling author, and award-winning 'pracademic', Dr Lucy Hone has a gift for turning complex science into usable tools. Covid-19 saw her TED talk, 3 Secrets of Resilient People, go viral making it one of the Top 20 most watched TED talks of 2020 and the most watched of any New Zealander.
Dr Lucy Hone is joining us exclusively in Tauranga to share insights on how to support those coping with disruption, challenge, change and loss. Regarded as a global expert in the field of resilience psychology, tragic circumstances forced Lucy to focus more closely on grief when her 12-year-old daughter was killed in a horrific motor accident.
Author of Resilient Grieving, Lucy now runs the hugely popular 'Coping With Loss' programme providing actionable tools and support to all those wanting to take be an active participant in their grief process. Her work is regularly featured in global media, including the Guardian, the Hidden Brain, the Washington Post, the BBC, CBS and ABC, Channel News Asia, Swedish Television, and TVNZ.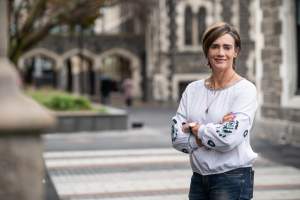 Find out more about Lucy Hone's work on LinkedIn | Instagram | Twitter | Facebook | "Coping With Loss" Facebook Community |